Recent News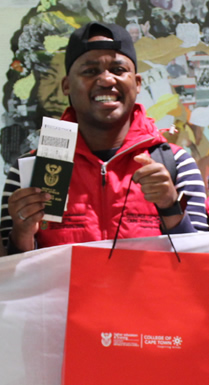 Sanele Tshonaphi is a twenty-seven-year-old young male from Mthatha in the Eastern Cape and currently residing in Khayelitsha. He completed his matric in 2015 and decided to pursue a career in Tourism. Thus, he enrolled for a National Diploma in Travel and Tourism with the College of Cape Town. Sanele intentionally came to Cape Town knowing it is South Africa's number 1 tourism destination, with the best places to visit for international and local tourists. Being accepted by the College of Cape Town was a dream come to a step closer to realising his dream of a career in Travel and Tourism.
He commenced his studies at the college in 2016 however due to unforeseen circumstances he had to drop out before completing his National N6 Certificate. This forced him to take a gap year, before approaching the Overseas Visitors Club (OVC) World Study Travel for assistance, they helped secure him a one-year internship abroad where he worked for Kalahari Resorts in the State of Pennsylvania, United States of America. Once he completed the internship, he came back to South Africa to complete his studies, unfortunately, because of the Covid-19 Pandemic, he was unable to immediately continue with his studies. He was fortunate enough to secure a job at a five-star hotel in Constantia as a Housekeeper.
Continue reading
Melisango Gwaza was born in a small Eastern Cape town called Alice. After completing his matric, moved to Cape Town in search of employment opportunities. Upon arrival, decided to further his studies, choose to enrol for Business Management at the College of Cape Town Guguletu Campus. He always had a keen interest in business, in High School he was selling sweets and chips for pocket money. In 2017 after completing his National N6 Certificate in Business Management, he only had one thing in mind "to start his own business", he started his bottled water business called "IVATI" (IVATI Water).
Mandilakhe Pato is a young man who hails from Stutterheim in the Eastern Cape and currently residing in Khayelitsha while completing his studies in a Management Assistant at the College of Cape Town's City Campus. Mandilakhe is a proud author of a Xhosa novel titled: "Ndixolele Peter" (Forgive Me Peter), the story is about parental relations and its challenges. He has witnessed a lot of children suffering from psychological trauma resulting from a lack of guidance and support from parents and/guardians, he hopes his book will address this and break the cycle.
Each academic year the College officially welcomes the newly registered students at each Campus' Academic Opening, this event allows the new students to see the College Executive, lecturing staff and support staff. However, with the new normal (current world pandemic) we have seen ourselves moving from our usual seven Academic openings (one in each of the seven campuses) to a total of twenty-four sessions broken down at each campus and according to the student capacity for each programme.
Sharmila Cloete, who is currently an apprentice plumber at the College of Cape Town, Thornton Campus, was the only female who formed part of a team that took part in the Corporate Social Investment (CSI) initiative to refurbish the Holy Cross Children's home in Parow Valley. Sharmila Cloete worked along with her fellow apprentice plumber students and professional plumbers. The areas that needed attention in the Children's Home were identified and groups were formed to focus on the different areas identified.
The student modified and re-built racing car by the College of Cape Town's Athlone Campus Automotive Motor Mechanic students, under the Young Engineers Motor Development Programme (YEMDP) has thus far participated in four competitive Clubman's saloon events/races (entry class X). The vehicle is currently being raced (driven) by Mr Lucin Downes, Facilitator at Athlone Campus for Automotive Motor Mechanic.
On 06 November 2020, saw the official opening of the BPO Academy at the College of Cape Town, Gardens Campus which will not only provide opportunities for young people to gain the necessary skills to graduate into an exciting career in the BPO sector, but importantly also ensures a talent pipeline for a fast-growing sector that is contributing significantly to job creation in Cape Town and the Western Cape.